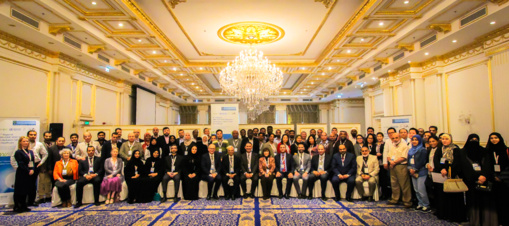 This regional Workshop on RSCHC was jointly organized by the International Radiation Protection Association (IRPA), the International Organization for Medical Physics (IOMP), and the World Health Organization (WHO), in cooperation with the Middle East Federation of Organizations of Medical Physics (MEFOMP), and the Hamad Medical Corporation.

The workshop focused on establishment and maintenance of a Radiation Safety Culture in Health Care community in Qatar and the Middle East Region as experts and distinguished speakers from different leading international organizations worldwide presented diverse and enriching views on radiation safety culture.

The workshop was attended by around 150 participants comprising representatives from radiation use regulatory bodies, health authorities, health professionals (radiologists, radiographers, medical physicists, nuclear medicine physicians, radiation oncologists, interventional cardiologists, dentists and pediatricians), manufacturers, and patients associations from across the Globe.

The objective of the workshop was to create an enabling environment for promoting basic science, applied research as well as clinical applications. Other aim of the workshop was to advance the cause of our organization in line with Qatar's National Development Strategy and in accordance with Qatar National Vision 2030

This initiative was launched by IRPA in cooperation with IOMP, WHO and all radiation protection (RP) professionals, in order to gather opinions of stakeholders towards the development of a document that will serve as guidance for the establishment and maintenance of a radiation safety culture in the healthcare settings

By reinforcing educational awareness, HMC want to ensure that their staffs are radiation safety conscious in their day-to-day job of handling ionized radiation for diagnosis, image-guiding or treatment. With a simple behavioral change, they can be rest assured of a good occupational and environmental health. It also hopes to create awareness among residents of Qatar as part of efforts to establish and maintain a radiation safety culture in the country's healthcare sector.