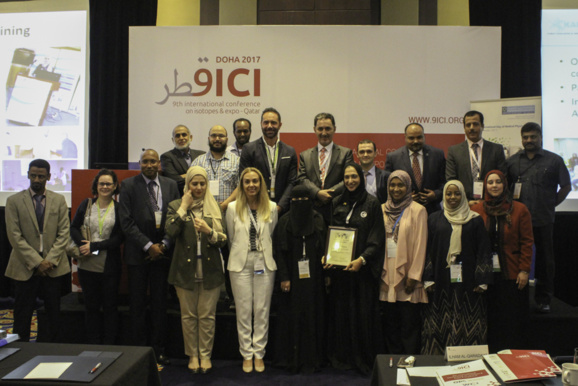 Hamad Medical Corporation (HMC) celebrated the 5th International Day of Medical Physics on 14 November 2017, in conjunction with the activities of the 9th International Conference on Isotopes (9ici) held in
the Marriott Marquis City Center Doha Hotel
from 12th to 16th November 2017. The theme for the day this year is - "Medical Physics: Providing a Holistic Approach to Women Patients and Women Staff Safety in Radiation Medicine".
The event was attended by many participants and the audience included medical physicists, radiographers, nuclear medicine specialists, radiation protection officers, educational institutions, engineers, healthcare practitioners, MOI and SCH audience and different Healthcare facilities in Doha and around the world. This event has been
accredited
for a maximum of 9.5 CPD hours.
The event honored some outstanding medical physicists with HMC's "Medical Physicist of the Year Award" in recognition of their contribution to the science of radiation. This year the award went to Mr. Nabil Iqeilan, Medical Physicist, Occupational Health and Safety Department. This award was followed by one more special award International Organization of Medical Physics (IOMP) award for International Day of Medical Physics (IDMP 2017) which was well received by Dr. Huda Al Naemi Executive Director of Occupation Health and Safety Department HMC and current vice president of MEFOMP.
The event was graced by seasoned speakers such as Dr. Virginia Tsapak, Secretary General of IOMP and Dr. Hanan Aldousari, Chair of Awards and Honors Committee – MEFOMP, who were also awarded for their valuable contributions in the field of Medical Physics.