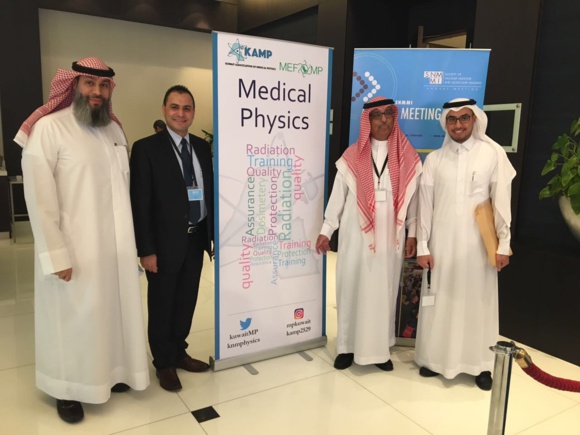 The Kuwait Society of Nuclear Medicine & Molecular Imaging in collaboration with the Kuwaiti Association of Medical Physics has organized the 6th Annual Kuwait Society Of Nuclear Medicine & Molecular Imaging (KSNMMI) Meeting & 1st Annual PET/CT & PET/MRI Congress Of West Asia from 19 - 22 March 2017 in Kuwait City. The Theme of the conference was: "Answers to Cancers"

The conference attended by more than 250 participants from over 25 countries from Asia, Europe, USA, and the Middle East. The Medical Physics Program chaired by Dr. Meshari Al Nuaimi, President of KAMP.

During the conference, a MEFOMP Executive Board meeting took place on Tuesday March 21, 2017 called by the President, Dr. Abdallah Al Hajj and attended by Dr. Laila Al- Balooshi, Secretary General, Ibrahim Duhaini, Past President, Dr. Meshari Al Nuaimi, President of KAMP, and Dr. Hanan Al Dousari, VP of KAMP.

The Board discussed several topics that will be included in another report. The MEFOMP ExCom Members had expressed deep acknowledgment of the achievements of the KAMP for organizing this event which was very successful and fruitful. Congratulations.


KSNMMI Programme.pdf
(153.44 KB)