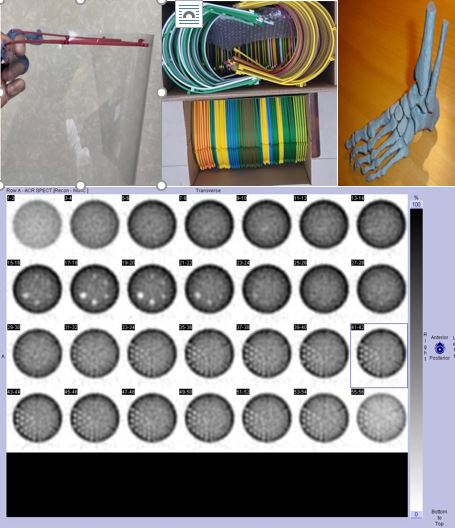 At the beginning of the outbreak of this pandemic, the Biomedical Physics Department of King Faisal Specialist Hospital and Research Centre (KFSHRC) decided to reduce the number of workers coming to work and activated Tele-work using remote access to staff PC's and other authorized computers. Also, the hospital decided to reduce the number of patients seen in the clinics and started activation of other methods of following-up the patients. In general, patients were also cautious and many of them chose not to show up for their imaging procedures or treatment sessions.

From the beginning, the number of department staff coming for work were minimized based on the importance and necessity of their jobs. Staff whom required to perform physical activities (calibration, QC and others) were coming for that activity and leave as soon as the job was finished to minimize attendance at the hospital. For the month of May, the restrictions in the country at large were more flexible and more staff started to attend in full and part time. It is worth mentioning that to avoid contamination of the health physics staff with the Covid-19 virus when dealing with the TLDs, we decided to extend the validity of the badges used for the first quarter of the year to be kept and used until the second quarter. This was done with arrangements with the local Saudi Nuclear and Radiological Regulatory Commission (NRRC).

With all these precautions and restrictions, department staff managed to perform the following activities and many others:

A- Research and Publications:
Published one article in a Peer-reviewed journal.

Department staff applied for a collaborative project titled "Evaluation of Decontamination and Reuse of N95 Masks, and its 3D-Printed Equivalent, Using Chemical and Radiation Sterilization Procedures", it was granted by KACST through "The Fast Track Funding Path for Coronavirus (COVID-19)".

Staff presented three abstracts at the American Association of Physicists in Medicine (AAPM) and the Canadian Organization of Medical Physicists (COMP) Virtual Meeting, July 12-16, 2020.

Department staff managed to develop a Social Distancing Electronic Device to maintain social distancing in hospitals.

Two members of the department were nominated to represent the hospital in KACST project to manufacture an artificial respiratory system.

The Imaging Physics Section contributed to the national research group for the establishment of National Diagnostic Reference Levels.

Participation of our Secondary Standard Dosimetry Laboratory (SSDL) to an IAEA Regional Technical Cooperation Project as a leading laboratory and the only laboratory in the region.
B- Education:
Department staff completed preparations to organize and to present three online RSO courses to be presented in August 2020.
C- Innovative Activities:
The 3D Printing Laboratory printed about 1000 Face shields to be used by our as protective tools for COVID-19.

More than 200 eye protection goggles were 3D Printed and distributed among medical staff.

The 3D Printing Laboratory substituted the commercial supplies during the blockage times by printing tools for the following areas:

Prosthetics & Orthotics Department; designed and printed more than 120 foot orthotic pieces.

Patients of Radiation Therapy Department; 3D printed Patient immobilization mask fixation tools and Cervix dilators for several patients.

Staff designed Nasopharyngeal swab model for COVID-19 testing using biocompatible material and establishing sterilization protocol for it based on international standards, this swab model was prepared in case there is a shortage of swabs.

D- Quality Control Testing and Routine Procedures:
Commissioning of a new Total Body Irradiation (TBI) technique.

The Clinical Dosimetry and Treatment Planning Unit continued in planning treatment plans with an average of more than 150 plans per month.

Continued performing patients' specific quality assurance (PSQA) procedures with more than 100 procedures a month.

The Imaging Physics Section implemented the testing and calibration of Radiology department monitors with testing more than 20 monitors every month.

The department staff implemented the Medical Physics requirements to obtain the American College of Radiology (ACR) accreditation for Nuclear Medicine.

The staff did all the required ACR procedures for five gamma cameras and two PET/CT systems during this period.

Completed and uploaded all the Medical Physics required information on the ACR web site.

Performed annual testing on four Gamma Cameras and four Dose Calibrators.

Performed quarterly testing on three PET/CT systems.

Performed Acceptance testing on one CT system and annual testing on two CT systems.
E- The Secondary Standard Dosimetry Laboratory(SSDL):

The laboratory continued its activities of calibrating different radiation detection devices like: Gamma survey-meters, Neutron detectors, pocket dosimeters, contamination monitors used for radiation protection, ionization chambers and electrometers used for radiography, diagnostic radiography detectors, irradiation of reference personal dosimeters (TLD and OSL), calibration of TLD chips used for patient dosimetry and other detectors.
Mr. Refaat AlMazrou,
Chairperson Education and Training MEFOMP
Deputy Chairman, Biomedical Physics Department,
King Faisal Specialist Hospital and Research Center
Riyadh, KSA