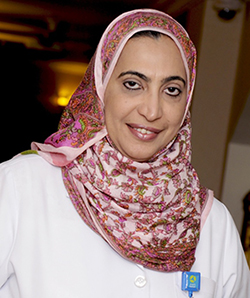 Dr. Huda Al Naemi - Hamad Medical Corporation, Qatar
Dr. Huda Al Naemi is the first Qatari Medical Physicist, representing State of Qatar in this field internationally and locally. She started her career with Hamad Medical Corporation (HMC) as Medical Physicist. She did her Bachelor's Degree in Physics from Qatar University and went on for further studies to obtain an MSc and PhD in Physics from Cairo University in Egypt. On her return to Qatar in 2000, she raised the standard of radiation safety. She established the Radiation Protection Unit in HMC, which was the first unit in HMC responsible for Radiation Safety. During her term as the Consultant Medical Physicist, the unit was expanded to cover more safety aspects.

Dr. Al Naemi serves as the focal person for Radiation Safety at HMC and for the various Qatar government agencies such as; The Ministry of Public Health, Ministry of Municipality and Environment and SIDRA Hospital. Dr. Al Naemi represents Qatar in a number of international meetings and conferences and work closely with global organizations such as; IAEA, UNEP and WHO and implements some of their projects at the national level. Dr. Al Naemi has published several papers in international journals.