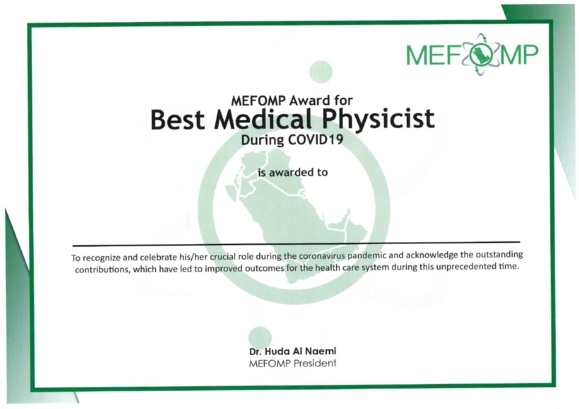 To express MEFOMP appreciations for members in all countries, MEFOMP ex com have decided to give a special MEFOMP award under the title of "
MEFOMP Award for Best Medical Physicist during COVID19
" as a recognition for the good work of the winners during this crises and to highlight the Medical Physics community who played an important role during this pandemic COVID19.
This award recognizes and celebrates individuals who have played a crucial role during the coronavirus pandemic. Specifically, it acknowledges their significant and outstanding contributions, which have led to improved outcomes for the health care system during this unprecedented time.
The nomination must demonstrate one or more of the following criteria in response to COVID-19:
Cntribution and demonstration of medical physicists' commitment in line with MEFOMP mission and values.
Exemplary leadership in support of health care organization during the COVID-19 pandemic
Provision of outstanding and exceptional quality of service in response to COVID-19
Enhancement of the outcomes related to workplace health and safety or wellness of patients, staff and public in relation to COVID-19
Implementation or advancement in workplace systems, procedures or practices that substantially improve the effectiveness and efficiency of health care during COVID-19.
All national MEFOMP Societies have sent their nominations to the President and nominations were closed on 15 August 2020.