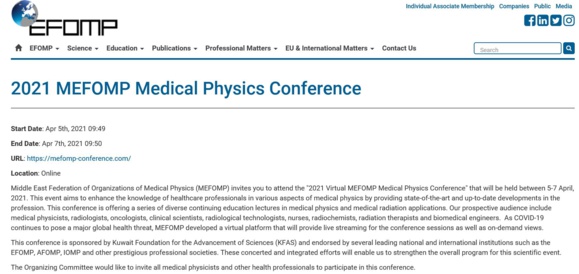 Middle East Federation of Medical Physics (MEFOMP) has Memorandum of Understanding (MOU) with European Federation of Organisations for Medical Physics (EFOMP) since 2017—18 to support and endorse each other educational and scientific activities. Therefore, the EFOMP website advertised the upcoming 2021 Virtual MEFOMP Medical Physics Conference to be held between 5 – 7 April 2021.



Moreover, EFOMP also nominated Dr Lucie Sukupova to participate as a speaker in the 2021 Virtual MEFOMP Conference who will deliver a presentation titled "Quality Control of Angiographic Systems".



Dr Lucie Sukupova, MSc, PhD, MPE studied Medical Physics at Czech Technical University in Prague – Faculty of Nuclear Sciences and Physical Engineering. She graduated her master's degree in 2008, finished her PhD in 2012, and then started working at Institute for Clinical and Experimental Medicine, the largest transplant Centre in Europe, where she is dealing mainly with angiography systems. In 2017, she received a title of Medical Physics Expert in Radio Diagnostics & Interventional Radiology from EFOMP.



Furthermore, she also works as a teacher at two universities where she teaches radio diagnostics for students of Medical Physics. She is a member of the EFOMP Working Group – Angiographic and Fluoroscopic systems – QC protocol. Also, she is a member of American Association of Physicists in Medicine, European Society of Radiology, Czech Society of Radiology and Czech Association of Medical Physicists where she became the president in 2018.



Besides publishing various articles, she also published a book about radiation protection in radio diagnostics in 2018. Since 2012, she has been writing a blog about radio diagnostics which is one of the main sources of information about technical aspects of radio diagnostics for medical physicists, radiographers, and radiologists in the Czech Republic.



For more information on the same please visit https://mefomp-conference.com