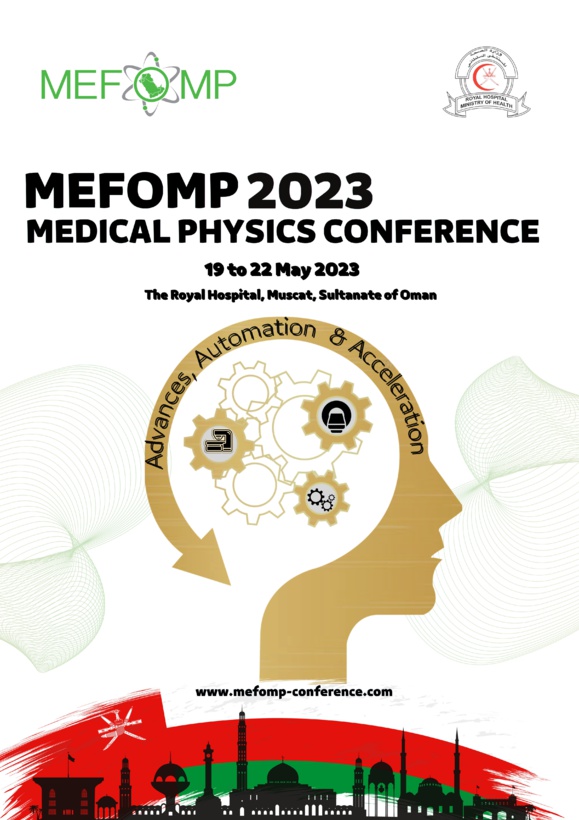 Middle East Federation of Organizations of Medical Physics is pleased to announce
the MEFOMP Medical Physics Conference 2023
which will be hosted by the Royal Hospital, Muscat, Oman from 19 to 22 May 2023. This event aims to discuss the latest advancements, innovations, and future directions in the field of Radiation Medicine.
The theme of the conference is
"Advances, Automation and Acceleration in Radiation Medicine".
This conference includes invited and proffered scientific sessions and Didactic Activities in Radiation Medicine including but not limited to Radiotherapy, Diagnostic Medical Imaging, and Nuclear Medicine.
For more information please visit the website link below.
Targeted audience are medical physicists, radiologists, oncologists, clinical scientists, radiation safety specialists, regulators, biomedical engineers, radiation therapists, radiological technologists, radiochemists, researchers, nurses, and students in relevant fields.
Topics for General Sessions:
Artificial intelligence and deep machine learning: principles
Medical physics in Middle East: advances and challenges
Health physics and radiation safety aspects, standards and regulations
Topics from Radiotherapy:
Advances in treatment delivery equipment and techniques
Small field dosimetry
MRI based brachytherapy
Quality assurance in radiotherapy
Topics for Diagnostic Imaging:
Advances in dosimetry and Image quality evaluation in diagnostic and interventional radiology (dual and multi-energy CT, wide beam CT dosimetry, Remote software based automated QC, patient dosimetry, skin dose mapping and peak skin dose estimation, etc.)
Dental intraoral, panoramic, cephalometric and CBCT imaging (QC, dosimetry and image quality evaluation)
Patient dosimetry, Dose Management/Monitoring Systems (DMS) and clinical diagnostic reference levels (CDRLs)
Non-ionizing radiation-based technologies: MRI, Ultrasound and Laser
Topics for Nuclear Medicine:
Future developments in nuclear medicine, molecular imaging, and therapy from a physicist perspective.
The latest hybrid imaging technologies and applications
Novel therapeutic and diagnostic agents for nuclear medicine and molecular imaging
Radionuclides therapy dosimetry: basics, requirements and methodology.
You are all encouraged to register and submit abstract through the website click on link below