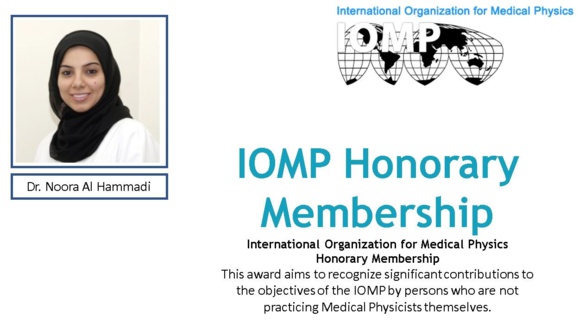 Dr. Noora Al Hammadi, Chairperson of the Department of Radiation Oncology in Qatar is awarded with International Organization of Medical Physics (IOMP) Honorary Membership 2021. This award aims to recognize significant contributions to the objectives of the IOMP by persons who are not practicing Medical Physicists themselves.
The award is in appreciation of her contribution to advancement of medical physics recognition in the field and significant contributions to IOMP's goals.

Dr. Al Hammadi is a firm supporter of the local and regional Medical Physics community. Locally, she strongly advocates both the radiotherapy and diagnostics through the implementation of advanced techniques and its Quality Assurance program. Regionally, she hosted the IAEA Regional Training Course on the Calibration of External Beam following TRS-398. Additionally, she also chaired the IAEA Regional Training Course in Brachytherapy.

The award consists of an IOMP Certificate and the permission to use the designation MIOMP(Hon) after their name.