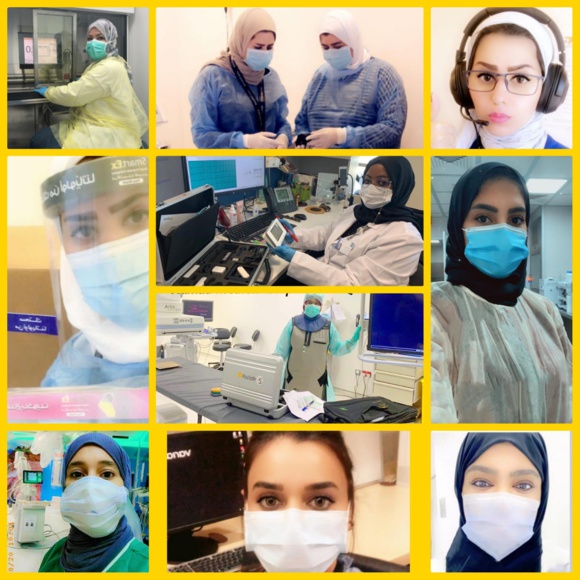 Women committee
contribute in fighting the pandemic focused on medical teams as frontiers in tireless battle against the infection. The role of women in the scientific community has taken part in many levels of academic and professional activities.
In medical physics, in addition to facing the challenges in a new working environment with strict regulations, more efforts were required in the field of patients and public education and supporting other fields,
women committee
contribute challenging radical changes that affect almost every aspect of our lives.
Since the early weeks of the lock-down, women committee encouraged the female medical physicists to register and attend different topics of webinar that highlighted the role of women scientists during corona pandemic, one of these webinars were organized by the International Organization for Medical Physics Women Group (IOMP-W) on 24 July 2020 This webinar was conceptualized to engage and, incentivize the role of women scientists for their contributions during the
COVID-19
pandemic. The organizers have invited four eminent women speakers from the field of medical physics, bioinformatics and veterinary science.
The website of (IOMP-W) is continuously updated with developed courses, news, regulations and interactive sessions, new ideas are being discussed and exchanged regarding every aspect of personal life and daily work not merely about the pandemic but as well the radiation protection and regulations during these special situations.
Many medical physicists including women have voluntarily participated with the medical team , they were relocated at the front lines to join the colleagues in the hospitals, active online seminars and local webinar were held for the purpose of continuous medical education.
The new movie (Radioactive) which portrayed the life and achievement of great scientist Marie curie was broadcasted online to the hospital staff as motivation, the MEFOMP-WOMEN Instagram shows remarkable record of women medical physicists' activities in variable formats of audio, video and written contents. A video was designed and edited to document the special role of women medical physicists in middle east during the pandemic crises and how everyone in her own post adapt and kept working in exceptional situation following the strict regulation and guidelines
Dr Hanan Al Dosssari
Chairperson, Women Medical Physics Committee MEFOMP
Head of Medical Physics and Radiation Safety Officer Unit
Jabeer AlAhmad Center for Nuclear Medicine and Molecular Imaging, Kuwait