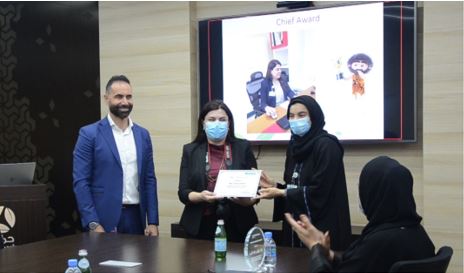 On the 5th of November 2020, the Radiation Oncology Department at National Center for Cancer Care and Research, member of Hamad Medical Corporation celebrated the International Medical Physics Day 2020 that falls on November 7 of each year.

Dr. Rabih Hammoud, Chief Medical Physicist did a brief presentation highlighting the contribution of Physicists in medicine and the appreciation of the Medical Physics Day. Furthermore, he shared the milestones and the achievements that the department of Radiation Oncology went through over the last 10 years.

The ceremony is annual event at the department of Radiation Oncology where we appreciate all Medical Physicists for their contribution, especially this year with the COVID-19 pandemic.

During the ceremony, the department recognized Dr. Huda Al Naemi, President of MEFOMP for her outstanding contribution to the Medical Physics community not just at the National level, but also at the Regional.

As part of the COVID-19 precaution and to respect the social distancing, the event was participated virtually by all the members of the department through Microsoft Teams.

Furthermore, appreciation awards were granted to many members from different departments across the corporation for their hard work and extra mile extended to the Radiation Oncology department and this year, Dr. Mohammed Hassan Kharita , MEFOMP secretary general was one of them.