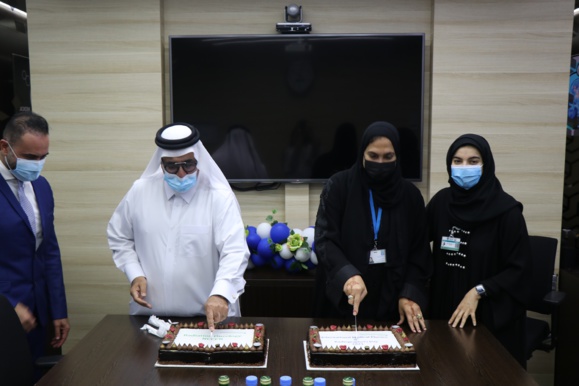 Department of Radiation Oncology at NCCCR celebrated the International Day of Medical Physics and World Radiology Day on Thursday, 11th of November at NCCCR. The program was attended by the entire Radiation Oncology team members, Medical Director of NCCCR , Chair of Radiation Oncology , Executive Director of OHS , AED OHS , AMD , Associate Professor of Physics at Weill Cornell Medicine Dr. Mohamad S. Yousef and other executives of National center for cancer care and research .

Dr. Rabih Hammoud, Chief of Medical Physics presided the program and spoke about the theme of IDMP 2021 "Communicating the Role of Medical Physicists to the Public". Dr. Hammoud spoke about the role of Medical Physicists in optimizing the use of radiation to treat cancer, evaluation of radiation doses during radiological investigations, significant role as teachers for doctors, allied medical staff and nurses, radiation safety of patients , staff and public and adoption of newer technologies and research.

This was followed by awards and recognition for staff for the year 2021 under various categories. Dr. Hammoud appreciated the staff for the advancements the department has made over the years and the continuous effort the department has taken during the pandemic in providing treatment to cancer patients with Radiation including COVID positive patients without any treatment break.

Further, the dignitaries and department congratulated Dr. Noora Al-Hammadi on receiving the prestigious IOMP Honorary Membership and Dr. Huda Al Naemi for the recognition received for the contribution to MEFOMP.