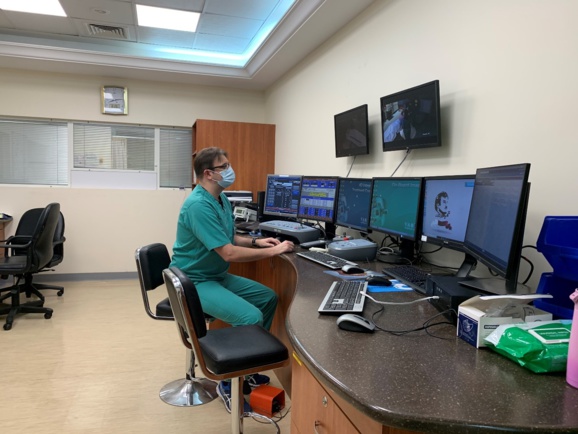 The National Centre for Cancer Care and Research (NCCCR) in Hamad Medical Corporation (HMC) is the only hospital in Qatar providing comprehensive cancer care and radiation therapy. It is anticipated that during the outbreak, NCCCR may be impacted by significant staff shortages that could potentially affect our ability to deliver routine cancer care to patients in the form of Radiation therapy. Accordingly, at the start of the escalation phase of the COVID-19 pandemic, mitigation measures have been implemented across HMC, NCCCR and the Radiation Oncology Department, to minimize risk of exposure to the novel coronavirus, protecting Staff and Patients.

As an immediate response to the pandemic, a dedicated 'Task Force' was created, with representatives from every Team in the Department (doctors, physicists, therapists and nurses), and will work closely together with the Infection Control team monitoring the crisis, identifying active issues and planning strategies as the pandemic evolves.

The Task Force developed a Clinical Response Plan which contains general measures introduced at the beginning of the outbreak, to protect patients and staff. It moreover seeks to stratify appropriate adjustment of the clinical service, dependent on the staffing level. As the pandemic evolves, this document will be reviewed regularly and adjusted.

In developing this plan, the following principles were observed:





Protection of staff and patients from COVID-19 infection by applying risk mitigation strategies;
Where possible those treatments that provide a chance of long-term cancer control
or cure will be prioritized;
Treatments aimed at palliation alone or a minimal extension of life may have to be
temporarily deferred or suspended during the peak of a COVID-19 outbreak;
Patients who have commenced a course of radiation therapy should be prioritized and supported in completing their treatments;


This Clinical Response Plan also aims to describe recommended staffing adjustments. The teams - all medical and non-medical Staff were divided in two separate entities, i.e. two Teams: Team 1 and Team 2, working in 2 shifts daily. These shifts are fixed, i.e. either only in the morning or in the afternoon, without any swapping or contact between the two Teams, to minimize any potential spread of the infection between them, patients, as well as with other Team members across our Department.

With regards to education, the department continued providing internal educational presentations under the department's QCHP accredited educational activities. These are done virtually through Microsoft Teams.

Lastly, with regards to research, we have submitted a research proposal to the IRB for the use of Low dose radiation therapy (LDRT) in the treatment of critically ill COVID-19 patients and is under review at the moment.

At this point in time, the department is still adhering to this guideline and will continue to do so until there is a guarantee that COVID-19 infection is no longer a threat to patients and staffs.




Dr Rabih HAMMOUD,
MEFOMP Treasurer,


Chief Oncology Physicist, Radiation Oncology


National Centre for Cancer Care and Research (NCCCR) - Qatar