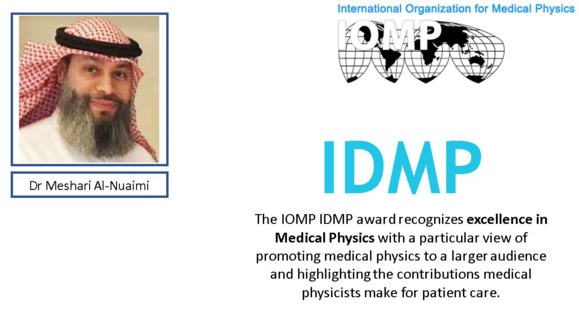 Dr. Meshari Al Nuami, Vice President of MEFOMP has been awarded the International Organization of Medical Physics (IOMP) International Day of Medical Physics (IDMP) award for the year 2021.

Dr. Meshari was selected by Awards and Honor Committee in the IOMP to be awarded this year presenting MEFOMP region.

The result was announced in the IOMP webinar held on 7 November 2021 by Dr. Madan Rehani, IOMP President.

Currently, Dr. Meshari is the Vice President of the MEFOMP and he served the organization since 2018. He is a Fellow of Institute of Physics and Engineering in Medicine (FIPEM) since 2019.

Simultaneously, he is the President of Kuwait Association of Medical Physics (KAMP) and Head of Radiation Physics Department and Nuclear Medicine Physics Unit in Kuwait Cancer Control Centre. In 2003, he studied Nuclear Medicine Science at Kuwait University and received a master's degree and PhD in Medical Physics and Biomedical Engineering from University College London (UCL) in 2011.

Dr. Meshari is a member of the scientific teaching staff of the Kuwait Board of Nuclear Medicine (KIMS). He published many scientific papers and reviews in the areas of medical physics and radiation protection and his publications were chosen as a featured article in the international journal of physics in medicine and biology.

Dr. Meshari is leading the Radiation Physics Department through his active involvements with the International Atomic Energy Agency (IAEA) through national and regional technical cooperation projects to promote for radiation safety culture.