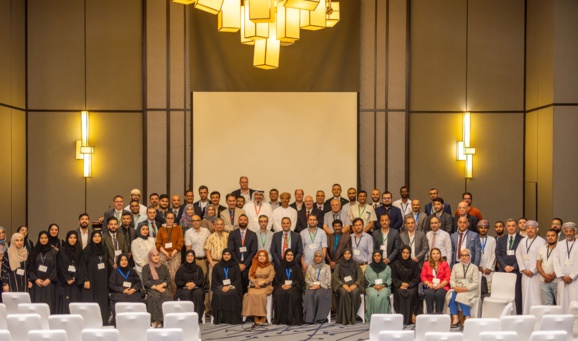 The Middle East Federation of Organizations in Medical Physics (MEFOMP) in collaboration with the International Atomic Energy Agency (IAEA) organized the 2
nd
MEFOMP Medical Physics Conference 2023, held on 19-22 May 2023. This conference was hosted by the Royal Hospital - Oman, with the theme: "
Advances, Automation & Acceleration in Radiation Medicine
".
Four distinguished keynote speakers from the international arena of healthcare medical physics shared their expertise making the conference productive, with around five pre-conference workshops held on 19 of May. Together with the international speakers, several local and regional experts also joined in the list of resource speakers for this conference.
With the unwavering efforts by the main organizers and committee members, the conference was indeed a success. Dr. Meshari Al-Nuaimi, (MEFOMP President) chaired the main Organizing Committee. The Program Committee was chaired by Dr Hassan Kharita (MEFOMP Vice President); while Scientific Committee was chaired by Dr. Rabih Hamoud (MEFOMP Treasurer). Dr Huda Al Naemi (MEFOMP Past President) also joined the main Organizing Committee in making this event a success. The local organizing committee was chaired by Dr Zakiya Alrahbi (MEFOMP Award and Hoors Committee chair)
Conference delegates had an in-depth view of the future directions, innovations in medical physics application in healthcare including latest advance in medical imaging and radiation therapy, artificial intelligence in medical imaging, and updates on radionuclide therapy and dosimetry. The conference had been an avenue in bringing together medical physicist and diverse group of healthcare professionals from the region and across the globe​.
​
About 300 participants (out of 1800 registered) physically attended the conference and the five pre-conference workshops. For the rest of the 1800 registered participants, the recording of the conference presentations will be available through the conference website
https://mefomp-conference.com/
. The audience were from a diverse group of healthcare professionals from the region and around the globe including radiologists, oncologists, clinical specialists, biomedical engineers, imaging scientists, physicians, radiation therapists, radiological technologists, radiochemists, nurses, regulators, researchers, health physicists, radiation safety officers and students.
During the conference, a new distinctive award was also launched by MEFOMP: the "Dr Huda Al Naemi Award". This award was established to give excellence and prestige to the awardee, as exhibited by Dr Huda Al Naemi - MEFOMP Founding Member and President 2018-2022, whom the award was named after, having achieved a high level of distinction from her unwavering contributions to MEFOMP and Medical Physics in the Middle East Region. Ms Maather Al-Kalbani was the first recipient of this award.
MEFOMP Medical Physics Conference 2023 is accredited by the IOMP with 17 CPD points, OMSB (Oman Medical Specialty Board) with 16 CPD points, as well as by the AAPM-CAMPEP (American Association of Physics in Medicine-Commission on Accreditation of Medical Physics Education Programs). This event was endorsed by Leading international medical physics organizations: IOMP, AFOMP, EFOMP, and FAMPO.
This conference was held after the impressive success of the Virtual MEFOMP Medical Physics Conference in 2021 and MEFOMP is planning continue conducting this biennial conference in the coming years.