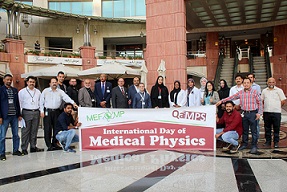 Qatar Medical Physics Society (QaMPS) celebrated the IDMP 2019 on the 7th of November by holding a large sign baring the words "International Medical Physics Day" and the logo of QaMPS and MEFOMP at the entrance of the largest administration building in Hamad Medical Corporation (HMC) as can be seen in the photos attached. All medical Physicists were welcoming the medical and admin staff coming to work at 7:00 am. The staff were interested to talk discuss with the medical Physicists about this occasion and it was good chance to explain the role of Medical Physicists in the hospitals by distributing special leaflets prepared for this purpose. Sweets and cake were distributed for HMC staff in this celebration. Medical Physicist highlighted the theme of IDMP 2019, so everybody was aware that "It is a Medical Physics World".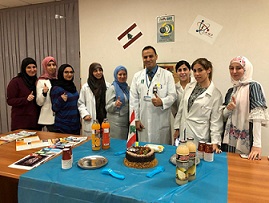 The Lebanese Association of Medical Physics (LAMP) has celebrated the International Day of Medical Physics (IDMP 2019) on November 7, 2019 at the Rafik Hariri University Hospital in Beirut, Lebanon. The event was attended by medical physicists and master students from the Lebanese University. There was a presentation about the event and exhibition of the previous MPW Magazines, Medical Physics Journals, Physics Today, and related books and Reports of Medical Physics. The participants then joined an open buffet during the gathering.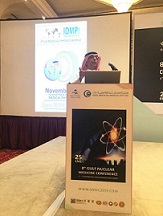 The Medical Physicists in the Kingdom of Saudi Arabia celebrated the IDMP 2019 by organizing a special educational session with specific topics about the role of Medical Physicists in the medical field, Dr Abdalla Al Haj was the main speaker in this celebration. They used the official IOMP IDMP poster 2019 in their celebration, the event attracts large number of Medical Physicists from KSA.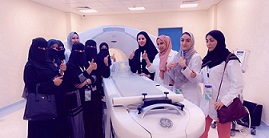 MEFOMP women Committee under the Chair of the committee Dr Hanan AlDosary celebrated the IDMP 2019 during the 8th Gulf Nuclear Medicine Conference in Jeddah, KSA. By organizing a scientific tour in the applied medical Sciences college with Vice Dean of the college Dr Noof Abo Hadi who encourage the young women scientist to get engaged in Medical Physics.