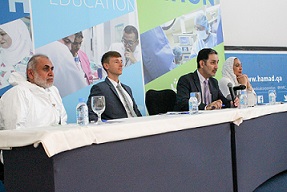 Dr. Huda Al Naemi, President of QaMPS and Executive Director of OHS Department opened the workshop and welcomed the speakers Dr. Hassan Kharita-Assistant Executive Director Radiation Safety, HMC, Dr. Zakiya Al Rahbi-Head of Quality Assurance, Planning and Radiation Protection, National Oncology Center, The Royal Hospital, Muscat, Sultanate of Oman, Dr. Ibtesam Nasser Al-Maskari-Superintendent and Chief Medical Physicist, Department of Radiology Molecular Imaging, Medical Physics Unit, College of Medicine and Health Sciences, Sultan Qaboos University, Sultanate of Oman and Dr. S. Adam Stratz-Office of Weapons of Mass Destruction Terrorism, Bureau of International Security and Nonproliferation, U.S. Department of State.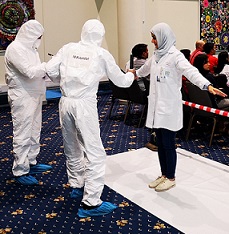 Dr. Huda delivered a presentation on emergency preparedness for radiation incidents while Dr. Adam presented the nuclear security system. In the afternoon, a practical session was organized with the whole team of Medical Physicist who played a role to scan and decontaminate the casualties in case of radiological incidents, 15 Physicists were wearing the full protective equipment or suit to demonstrate the real scenario for the audience. 120 medical staff from HMC have attended the workshop and they cooperate and interact with the drill in positive way.

The feedback of the workshop was very good, and the audience was very satisfied with this education session.